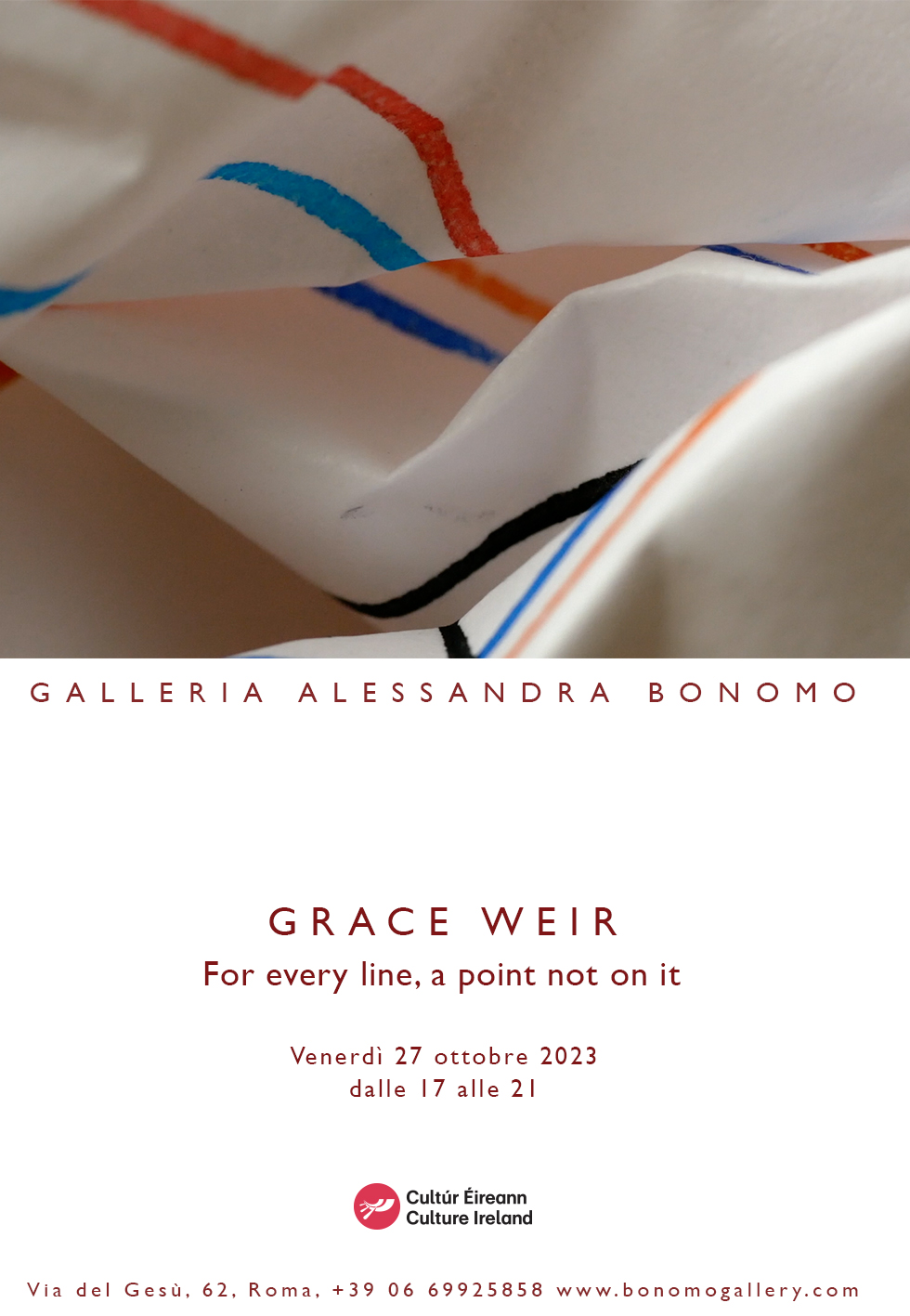 Grace Weir
For every line, a point not on it
 Preview Friday October 27th, from 5 to 9pm
Open to the public from Tuesday October 31st to January 16th
For every line, a point not on it is the first solo exhibition by Grace Weir (Dublin, Ireland, 1962) at the Alessandra Bonomo Gallery. The exhibition project takes its name from the film shot by Grace Weir in 2023, with the support of the Arts Council of Ireland and the Mahler & LeWitt Studio. The film was shot at the Eremo Santa Maria Maddalena, the historic convent near Spoleto, which in 1971 hosted Sol LeWitt and Mel Bochner, Richard Nonas, Pat Steir, Joel Fischer, Richard Tuttle and many other artists, who created directly on the walls of the Eremo the wall drawings still visible today. Crossing different theories of vision from the Renaissance to conceptual art, the film investigates, within the topology of a specific place and its panorama of artistic practices, the geometric orientation of representation at the intersection of nature and culture.
Weir has a novel approach to research, based on encounters with specific elements such as particular places, archival research, conversations with philosophers, scientists and professionals from other disciplines. The artist is particularly interested in experimenting with time and space and the corresponding relationship with the concepts of identity and representation, in developing trajectories of thought in which meaning and temporality are confronted with our perception of history and the future. Many works in the exhibition are linked to the creation of the film which has been a culminating moment of profound reflection for the artist and a starting point for further stimuli. In her work Weir confronts topics such as the history of perspective, nature, drawing, geometry, the constellations of the sky, with a scientific approach that is always attentive to the temporal factor. Particular attention is also paid to photographic experimentation, of which a series of photograms will be on display, created by Weir with the special support of prisms and shards of glass on the sensitive surface and the use of light-resistant inks.
Biography
Grace Weir was born in Dublin in 1962. She represented Ireland at the 49th International Venice Biennale and has exhibited widely nationally and internationally. Among the selected exhibitions, Laure Genillard, London; Leuven University Library Galleries, Belgium; Wäinö Aaltonen Museum of Art – Turku City Art Museum Finland; Unit London, London; Artspace Boan1942, Seoul; Hessel Museum, Bard, New York; The Glucksman, Cork; DeLeón, Bath UK; Gracelands, Leitrim, Ireland; Beijing Art Museum of Imperial City – BAMOIC, Beijing; RHA Gallery, Dublin; Cornerhouse, Manchester; Temporarycontemporary, London; John Curtin Gallery, Perth; The Science Museum, London; Iziko South African National Gallery, Capetown; The Experimental Art Foundation, Adelaide; PS1, New York, USA. She has been in residence at Trinity College Dublin and has held solo exhibitions at the Irish Museum of Modern Art (2015-2016).
Exhibition supported by Culture Irland